About Aggie Winston
YBR and Pilates Certified Instructor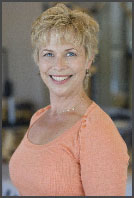 My name is Aggie Winston and I would like to thank you for visiting Body Solve It. My studio is the culmination of over 12 years of teaching in the Conejo Valley and I look forward to many more years of private one-on-one training at this new location.
My own experience with Pilates began as an adult trying to overcome chronic pain resulting from the effects of a spinal condition I was born with called "scoliosis."  Hit by a car at age 12 caused a broken shoulder and severe neck trauma and pain continuing through my growing years. Traditional medical therapies, including physical therapy, pain management and medications gave me very little relief.  Medical professionals recommended undergoing spinal fusion surgery, an option I completely rejected. I began exploring alternative ways to heal. Integrating alternative practices such as Chinese medicine, chiropractic care and acupuncture, my body began to respond but there was still something missing. I still had to rely on "treatments" and other people to remain functional.
In 1998 I learned about Joseph Pilates. His story about his evolution from a sickly child to a model of physical health was impressive. His revolutionary method of strengthening and conditioning the body through a cross-fusion of martial arts, gymnastics and body building made profound sense. With this epiphany I chose to transition from a desk job that was killing me to a new life to pursue the nature of  healing and liberation from pain. With the help of talented, professional Pilates teachers I made progress. I learned to listen to my body and work even the smallest muscles to make long-lasting improvements to my posture, finally eliminating the pain. That took 2 years, but it began my journey on the road I continue to walk today.
In 2001 I became certified by the Physical Mind Institute as a Pilates Instructor, following a long lineage of people who had healed themselves and others with the Pilates Method. My PMI training was intensive and included all aspects of the fundamentals and principles created by Joseph Pilates himself. I learned to create programs using the Pilates Reformer, Chair and Trapeze Table, as well as teach Pilates mat exercises for a wide variety of clients. My commitment to my continuing certification and education from the best master-trainers in Pilates is ongoing, with professional education through Pilates Method Alliance Conferences and Balanced Body Pilates on Tour.
For the past 7 years I expanded into other restorative practices. One was to become a Certified Yamuna Body Rolling Practitioner in 2007. Created by a pioneer in the bodywork field, Yamuna Zake, the YBR method invigorates the results my students get from doing Pilates. YBR teaches each student about their own personal combination to unlock the deep tissue called "fascia," often overlooked in other restorative exercise programs. In 2008 I completed a 200-hour Yoga teacher-tranining program with YogaWorks, which broadened my personal practice and showed me how to incorporate centuries of yoga tradition into my training methods and philosophy.
And that philosophy?  "Become Your Own Body Expert," exploring your best self in body, mind and spirit.  Welcome to my site. Please  explore the training options and feel free to contact me soon to schedule a private session or attend a class.
Professional Affiliations: Aggie is a member of Pilates Method Alliance (PMA) and IDEA Health and Fitness Association.
Schedule Today!
Call (805) 768-4711 to schedule your private session
Schedule Today!
Call (805) 768-4711 to schedule your private session