Pilates
What is Pilates and How Can it Improve Your Fitness?
Pilates is an innovative system of mind-body exercise evolved from the principles of fitness innovator, Joseph Pilates in the early 1900's.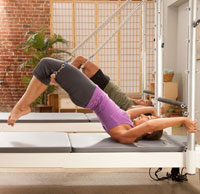 Pilates dramatically transforms the way your body looks, feels and performs. This system works deeply from the "inside out" and has endured for the past 80 years because it simultaneously builds strength without excess bulk, as it stretches and realigns the body while relieving tension and strain in the joints.
The Benefits of Pilates
Reduces stress as it improves focus and breathing methods that encourages relaxation and a strong "mind/body" connection.
Develops a strong core – flat abdominals and relieves lower back pain caused by weak core muscles that don't support optimal alignment.
Improves posture and coordination which creates an evenly balanced and conditioned body.
Strengthens and improves range of motion in the spine, neck, shoulders and hips resulting in less wear and tear on your entire body for optimal health and injury prevention.
Every Student Gets Personalized Attention in a Relaxed Environment
All of our sessions are Private Sessions. This allows your training to be customized for your goals and any special circumstances. You can expect and extremely safe and effective workout that best suits you now … increasing the intensity and challenge as your body conditioning improves.
Pilates is also an extremely flexible exercise system. Modifications to the exercises allow for a range of difficulty ranging from beginning to advanced.
Pilates Equipment
We use state-of-the art, brand new Balanced Body Equipment with the Allegro 2 Combination Tower/Reformer and universal foot bar. Additionally we incorporate: Stott Split Pedal Chair, Pedipull and Arc Barrel.
Pilates for Buff Bones®
Try this medically endorsed pilates based mat program! Now available for the first time in our area.
Gentle bone building benefits for anyone concerned with improving bone density (which is all of us!) It targets the butt, hips, arms and back while giving the whole body a terrific workout.
A dynamic class that is adaptable and challenging for people of varying levels and also safe for those with osteoporosis.